Recently, Henlius (2696.HK) announced that the distinguishing features of HLX07, an independently developed novel anti-EGFR monoclonal antibody (mAb), compared to cetuximab were published in a well-known journal, Expert Opinion on Biological Therapy. The pre-clinical and preliminary Phase 1 clinical data suggested a potential superior antitumour efficacy and better safety profile of HLX07. As such, HLX07 would potentially be an alternative for patients who need anti-EGFR mAb therapy.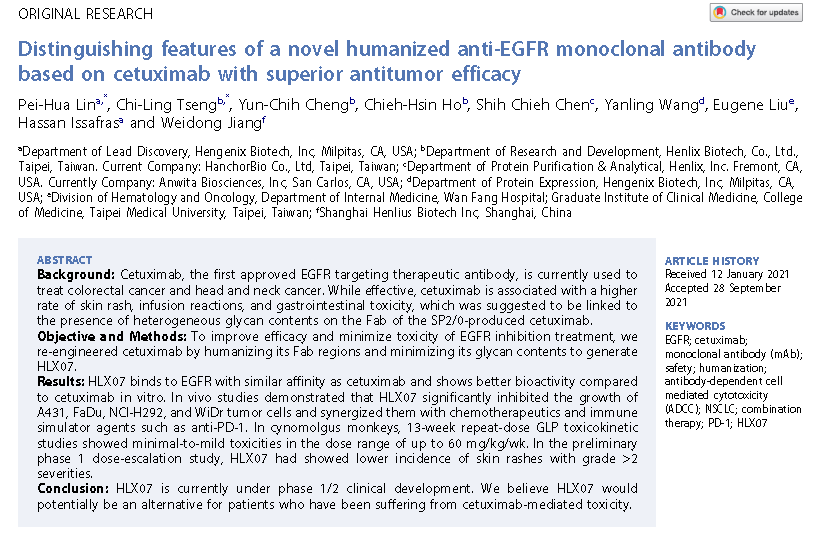 HLX07 is a bio-better independently developed by Henlius. Adopting the self-developed advanced antibody engineering plantform, Henlius re-engineered cetuximab by humanizing its Fab regions and minimizing its glycan contents to generate HLX07 to reduce the immunogenicity and increase the affinity of the product. Pre-clinical studies have shown that HLX07 binds EGFR with similar affinity and had better bioactivity compared to cetuximab. HLX07 can significantly inhibit the growth in different tumour models and synergize with chemotherapeutics, trastuzumab (汉曲优), anti-VEGFR2 mAb and immune checkpoint inhibitors such as serplulimab (novel anti-PD-1 mAb). In cynomolgus monkeys, 13-week repeat-dose GLP toxicokinetic studies showed minimal-to-mild toxicities. In the preliminary Phase 1 dose-escalation study, HLX07 had showed lower incidence of skin rashes with grade >2 severities. These results laid the foundation for HLX07 Phase 1b/2 clinical studies and further combination studies of immuno-oncology inhibitors such as anti-PD-1 mAb, and HLX07 is expected to provide a better choice for patients.
As of now, Henlius holds patents of HLX07 in several jurisdictions including China, the United States, the European Union, Australia, and Japan. Moreover, Henlius has received clinical trial approvals for HLX07 in the treatment of solid tumors in Chinese mainland, the United States, and Taiwan China. The Phase 1b/2 clinical trial has been conducting in Chinese mainland. In the field of combination immunotherapy, the first patient was dosed in Chinese mainland in a Phase 2 clinical trial of serplulimab in combination with HLX07 for the treatment of recurrent or metastatic squamous cell carcinoma of head and neck (SCCHN). Looking forward, Henlius will continue conducting clinical studies for more innovative products and exploring combination therapies with improved efficacy to provide patients with quality and affordable biologics.
About
EXPERT OPIN BIOL TH
Expert Opinion on Biological Therapy is a medical journal covering research on all aspects of biological therapy, including gene therapy and gene transfer technologies, therapeutic peptides and proteins, vaccines and antibodies, and cell- and tissue-based therapies. This journal was included in the Expert Collection published by Taylor & Francis. The Expert Collection is the world's largest series of review journals in research, development, and clinical medicine.