Shanghai, August 28, 2023 - Shanghai Henlius Biotech, Inc. (2696.HK) announced entered into a strategic framework agreement with FBD Biologics Limited ("FBD"), a holding subsidiary of HanchorBio, for collaboration to combine HanchorBio's protein engineering expertise and proprietary Fc-based designer biologics (FBDB™) technology platform with Henlius' integrated product development and commercialization capabilities. The collaboration aims to expand the application of each company's platform by developing novel cancer immunotherapies, including those tumors resistant to anti-PD-1/L1 immunotherapies, to accelerate their respective pipeline of innovative immunotherapy medicines. Under the terms of the agreement, Henlius will also have the opportunity to opt-in and co-develop the selected products with HanchorBio.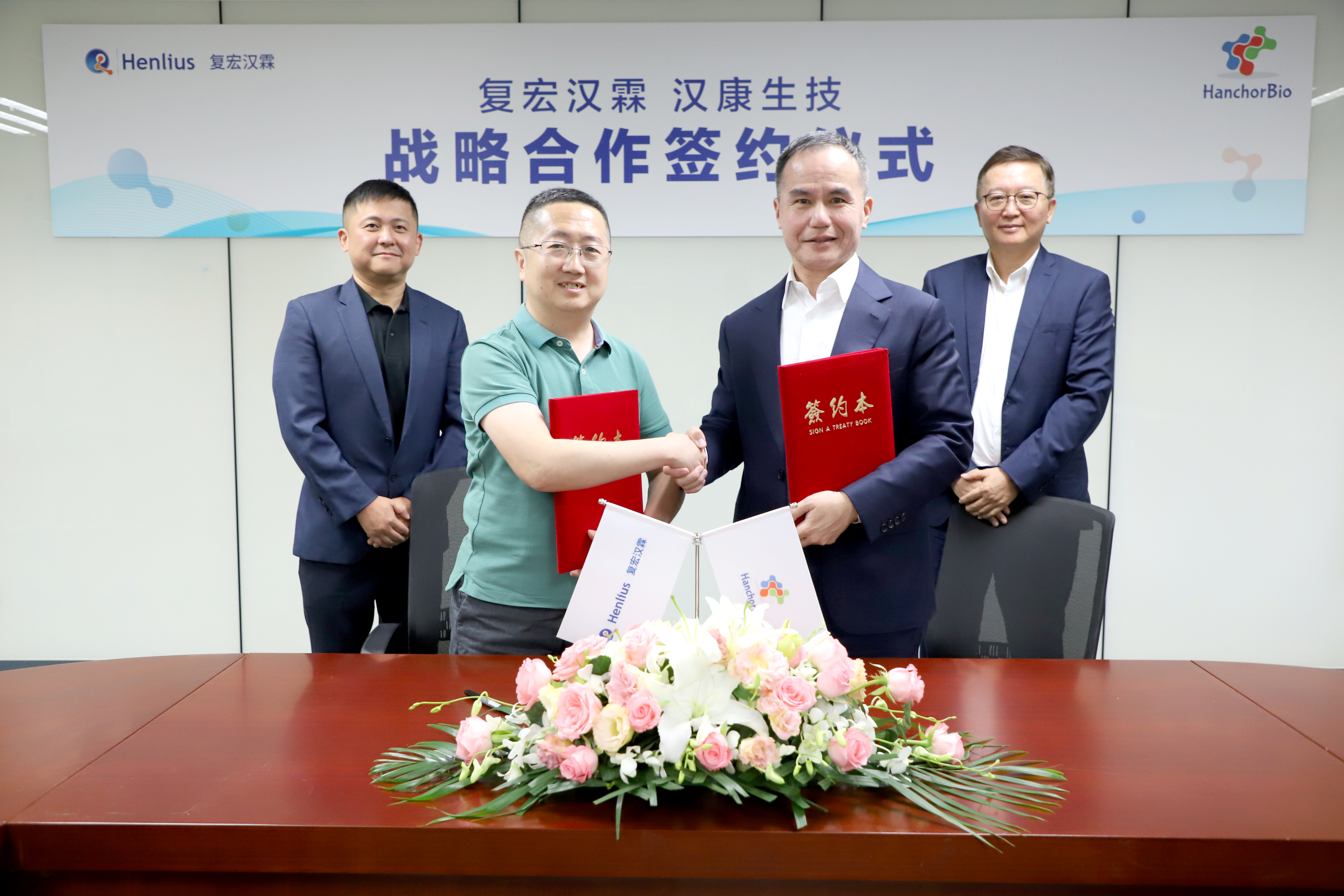 With more than a decade's experience in oncology immunotherapy, HanchorBio's management team is well-versed in protein engineering, recombinant antibody engineering, and novel therapeutic platform development. Based on the company's proprietary FBDB™ platform, a small protein fragment could be fused to the Fc region of a single antibody to achieve the effect of a "combination therapy". Meanwhile, the platform enables unique biologics with diverse multi-targeting modalities to activate both innate and adaptive immunity, thus having the potential to overcome the current challenges of anti-PD1/L1 immunotherapies.
Regarding antibody technology as a core, Henlius has built a well-established and regulated biopharmaceutical platform throughout the entire product life cycle including biological molecule discovery and optimization, preclinical studies, cell strain construction, process development, preparation development and clinical study. Moreover, Henlius has established a quality management system in line with international quality standards, which covers the entire product life cycle, from research and development to material management, product manufacturing, quality control, product supply management and particularly, product post-marketing surveillance, laying the foundation for globalisation. As of now, the company has successfully launched 5 products, which have been highly recognized for their superior quality, safety and clinical efficacy by healthcare professionals, patients and the whole industry.
"FBDB™-based innovative products may offer effective cancer immunotherapies to patients suffering from cancers which are resistant or refractory to PD-1/PD-L1 blockade therapies, and having significant unmet medical needs on a global scale," said Scott Liu, Ph.D., Founder, Chairman, and Chief Executive Officer of HanchorBio. "This collaboration represents a foundational recognition and investment in our platform science and capabilities, which strengthens our pipeline and accelerates our research to providing novel therapies to patients globally. We are thrilled to collaborate with Shanghai Henlius to jointly address the inadequacies of the current anti-PD-1/L1 therapies and to navigate new frontiers in immuno-oncology through the design and development of novel multi-functional modalities that synergistically modulate and re-engage immune systems to fight cancers."
Mr. Jason Zhu, Chief Executive Officer, President and Chief Financial Officer of Henlius, said, "Henlius is dedicated to providing affordable and innovative biologics for patients around the world. Up to now, we have achieved great success in promoting 5 products to the global market. Focusing on unmet clinical needs, Henlius actively collaborates with our global leading partners to pursue discovery and technology advance. HanchorBio was founded by Dr. Scott Liu, one of the co-founders of Henlius, and possesses an experienced team with a great mission and vision. Taking innovation as a driver, HanchorBio has quickly built its differentiated advantages and stands out in the field of oncology immunotherapy. This collaboration will allow Henlius to further accelerate our practice of affordable innovation and benefit more patients worldwide by fully leveraging HanchorBio's leading technology and R&D platform."
Looking into the future, Henlius will work with HanchorBio to jointly boost innovative therapies based on HanchorBio's proprietary FBDB™ platform and Henlius' long experience and deep knowledge in antibody development, as well as unparalleled advances in process development and technology pathways, addressing global unmet medical needs.
About HanchorBio
Based in Taipei, Shanghai, and San Francisco Bay Area, HanchorBio is a global clinical-stage biotechnology company focusing on immuno-oncology. The Company is led by an experienced team of pharmaceutical industry veterans with record of success in biologics discovery and global development to transcend current cancer therapies. Committed to reactivating the immune system to fight against diseases, the proprietary Fc-based designer biologics (FBDB™) platform enables unique biologics with diverse multi-targeting modalities to unleash both innate and adaptive immunity to overcome the current challenges of anti-PD1/L1 immunotherapies. The FBDB™ platform has successfully delivered proof-of-concept data in several in vivo tumor animal models. By making breakthroughs in multi-functional innovative molecular configurations in R&D and improving the manufacturing process in CMC, HanchorBio develops transformative medicines to address unmet medical needs.